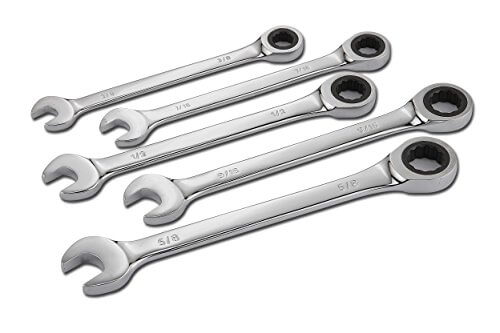 Hover to enlarge image
$ 21.42
Today is Saturday February 24th
Want a gift by Tuesday, order now
In Stock

*If no price appears click to check new pricing.
5pc SAE Ratcheting Combination Wrench Set | ARES 70059 | 72 Tooth Ratchet Mechanism Works with a 5° Sweep for Confined Areas …
ITEM SPECIFICATIONS: These wrenches are full length for maximum reach and leverage. They are constructed of premium quality heat treated chrome vanadium steel with mirror chrome plated finish. Ratcheting Box End needs as little as 5° to move fastener vs 30° for standard box end wrenches. Sleak head design enables access to tight spots were a ratchet will not fit
SET INCLUDES: Most Popular Sizes: 3/8″, 7/16″, ½", 9/16″, and 5/8″
MUST HAVE: Ratcheting Wrenches are a must have for the compact engine compartments of new cars. With the ARES full length pattern and 5°, you will be able to reach most of those fasteners.
RELIABLE | EFFECTIVE | EFFICIENT: Users trust ARES to be Quality Tools. You are backed by our Performance Assurance. If you have any issues with your ARES Ratcheting Wrench Set, simply contact customer service for troubleshooting help, parts, replacement, or refund.
ASPCA BUSINESS AMBASSADOR: We are proud to be part of the ASPCA Business Ambassador Program. If you have a pet, you realize they are more than a pet, they are part of the family. With your support, we're proud to help this great organization
ARES 5pc SAE Ratcheting Combination Wrench Set/b>
Get the job done Now!
– Are you sick of smashing your knuckles in hard to reach areas?
– Need a ratchet to fit in that confined area, but it won't fit?
– You want to save time and effort at a reasonable price?
The ARES Ratcheting Wrench set is what you need
– Ratcheting Box-End needs as little as 5° to move fastener vs 30° for standard box end wrenches
– Sleak head design enables access to tight spots were a ratchet will not fit
Amazon buyers trust ARES to be Quality Tools
– You are backed by our Performance Assurance: customerservice@arestool.com
---
Customer Rants & Raves About: 5pc SAE Ratcheting Combination Wrench Set | ARES 70059 | 72 Tooth Ratchet Mechanism Works with a 5° Sweep for Confined Areas …
Order now and get a gift for him by Tuesday
Search For More Gift Ideas