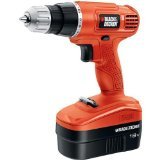 Hello again!
In this Husbands Only lesson you're going to learn about something near and dear to most men's heart.
That's right, I'm am talking about a cordless drill.
No kidding, most men love their cordless drill…
I'm not sure why that is except for how much easier life gets when you have one and don't need to crank on a handheld screw driver or stretch an extension cord across the room for an electric drill.
I will admit I love my cordless drill, too. 🙂
Now with that confession out of the way, let's look at a popular model that you can find at just about any hardware store.
18V Black & Decker Cordless Drill
Here's what we learned about this cordless drill:
18 volt Ni-Cad Cordless Drill
Super light weight
Ergonomic shaped for a great grip
Packs 12 MM of torque
Has 23 clutch settings
Variable speed is controlled by the trigger
Perfect for driving screws into wood, metal and plastic
And best of all, it comes with (2) 18V Ni-Cad batteries
Wow:
I'm getting excited just thinking about this bad boy cordless drill.
Let me be honest here. Yes, there are more powerful drills then this one on the market. But unless your man is into serious handy work, then this is a perfect starter drill for him.
Take if from someone who has had at least 5 cordless drills, this is perfect…
Check here if you want more great gift suggestions for your guy. Or here's a link to another Husband Only lesson about Basic Tools for the DIY man.