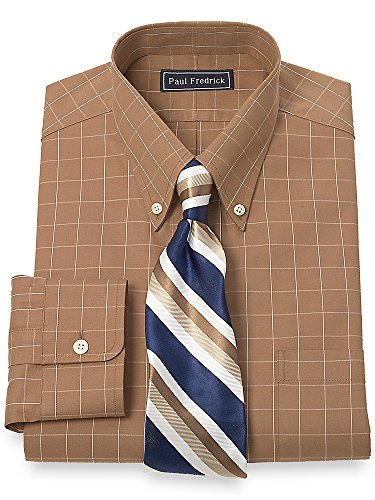 Welcome to another Husbands Only lesson.
This time we are going to cover "how to pick and size a man's dress shirt."
During this lesson, you'll find out how body type, height, and arm length influence how a dress shirt will fit a man.
We have 2 videos to watch.
In the first video we are going to learn how to properly sizing a dress shirt.
Then in the 2nd video we will learn about the different shirt styles (or fits) to choose from.
Look:
I know from my own experience that I've gone into public with baggy dress shirts that were too large for me. And worst, shirts with arms that were too short. 🙁
Hopefully by the end of this lesson you will know how to help your husband (or man) avoid my mistakes when buying shirts…
How to Pick a Man Dress Shirt Size (Using a Measuring Tape)
Here's what we learned about sizing a dress shirt:
You'll need 2 measurements: neck size and the arm length.
First off, you will need a measuring tape or line.
Snugly wrap the tape around his neck near the collar line (allow extra space for 3 fingers under the tape). This gives you his neck size.
Now to get his arm length, start with the arm lifted and bent horizontally and measure from the back of the neck centered on his spine, while stretching the tape around the elbow up to the hand by the thumb and index finger.
For example, my dress shirt size is 17.5″ x 34″.
That was easy, right? Now let's learn about the different dress shirt styles to pick from.
How To Pick a Man's Dress Shirt Style
And here's what we learned about dress shirt styles:
First off, it's all about FIT because having the right shirt style is important!
Remember this:
How a shit fits says something about the person (think about my earlier example about baggy shirts with arm sleeves that were too short). What was that saying about me? Sloppy!
Regular Fit – These are the classic shirts for business dress. They are generously cut through the chest, have relaxed sleeve for arms and are loose at the waste.
Trim Fit – This dress shirt is a young cut and is more popular than the regular style. The trim fit is narrower through the chest, has a slight higher arm hole on the sleeve, and it is tapered towards the waste. It has a clean look versus a classic look.
Extra Trim Fit – This is a precise fitting dress shirt for the man who is into a fashion look. The extra trim fix is tight against the chest, has a slim sleeve and is close or snug against the waste.
There:
What do you think?
As we conclude this lesson about dress shirts let's recap…
First we learned how to measure a mans neck and arms for the proper shirt size.
And then we learned about 3 different dress shirt styles: Regular Fit, Trim Fit and Extra Trim Fit (Business, Clean and Fashion looks).
That's it for now, I hope this lesson was helpful and helps you find the right dress shirt for your man so he will look his best at work or out on the town. Thanks!
Now let's check out some shirts, click the link below…