Hi again! In this Husbands Only lesson, we're going to look at gifts for the best handyman services around the house.
Let's look at 10 basics tools he can use for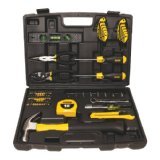 small jobs around the house.
But honestly, whatever the situation, this lesson is perfect for any beginner who wants to start with a basic set of tools for small home repairs.
Let me start by telling you I have tools everywhere…
My wife has learned to see them in the kitchen cabinet drawers (for small jobs like fixing a leaky sink), on my desk (for quick computer repairs such as for adding memory), and scattered in the garage (for auto mechanic and yard work).
I admit I have tools all over the house. 🙂
But what about you – what tools should you have to start with?
In this lesson, we're going to learn what tools are good for beginners…
10 Basic Tool Gift Ideas
Here's the list of basic tools we learned about:
A Cordless Drill always, always, comes in handle for a lot of handyman jobs.
Tape measure (tape measures always come in handy for hanging pictures).
Claw Hammer with a smooth front (hammers also come in handy for hanging pictures).
Channel Lock Pliers (useful for small plumbing jobs).
Needle Nose Pliers (great for fixing jewelry and cutting wires).
Screw Driver with multiple tips (perfect for fix-it jobs).
Retractable Box Knife (handy for opening boxes).
2′ Level (also needed for hanging pictures or shelves).
Dust Mask (helpful for dusty jobs in the yard or when breaking up drywall).
Safety Goggles (always protect your eyes when doing any DIY maintenance around the house).
Safety Gloves (also don't forget to protect your hands).
Tools Bag (tool bags are for keeping tools together, portable, and easy to find).
This gift idea is great for newlywed homeowners (and for him to do honey-do's).
Let's review again what can be done with this basic set of tools.
With these tools he can handle most small jobs around the home such as: hanging pictures or shelves, assembling furniture, assembling appliances, and assembling toys.
But that's not all:
This set of tools can be used for kitchen and restroom repairs such as repairing a leaky sink or toilet. But then, there is a completely deferent set of tools for pool maintenance and another group of tools for lawn care.
And let me say from experience there are so many more DIY small jobs around the house that can be easily handled with this small list of tools that I can't count them all…
Wasn't that a fun lesson?
If you'd like to browse basic toolkits just click the link below. Thanks!