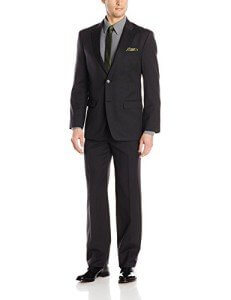 Welcome to this Husbands Only lesson where I'll help women learn how to pick a man's suit.
What you'll learn can make a big difference on how the suit looks and fits your guy.
Imagine going out with him to a nice restaurant and he's dressed in a fitted suit, what does that say about you? I'll tell you, WOW look at her!
I'm excited to show you this short video which will show you 7 tips for picking a man's suits.
Watch the video then we will have a quick review…
7 Tips For Picking A Man's Suit
OK, here's what you should have learned about suits:
Only Buy Matching Jackets and Pants (same fabric).
Only Buy 2 button coats (don't button the lower button).
No Pleats (pleats are for Gram-Pas!)
Buy suits in subtle colors (grey, navy, black…)
Buy a suit that fits (don't guess the chest, waste or length!)
The fit is key to a good looking suit. The suit should hug the body but not be too tight.
Have a tailor tweak the pants and jacket for the best results.
That concludes this quick lesson on the 7 easy tips for picking a man's suit (coat and pants). Follow these tip and your man will stand out from the crowd! Thanks.
Now click the link below to browse suits…
Quick Look @ Amazon gift ideas for him.  And here's another great lesson: Must have wardrobe items for men.